Please see our accessibility page for more information regarding the steps we are taking to ensure compliance.
Accessibility Statement
Welcome to the Kilham Parish Council
We hope that you will find the content of our website both useful and informative. Kilham Parish Council is not responsible for the content of external websites
Rural Policing
In March 2021 Inspector Derek Hussain joined the East Riding North Neighbourhood Policing Team and is based at Bridlington Police Station. His area of responsibility covers Bridlington, Driffield, Hornsea as well as all of the rural villages from Fimber to the west, Fordon to the north, Flamborough to the east and to Cowden in the south. Inspector Hussain is assisted in our area by Sergeant Whitehead who is based at Driffield.
The inspector and sergeant would like to hear from anyone who has concerns about issues affecting them. As well as criminal activity they would like to hear concerns such as anti-social behaviour, off road biking, speeding etc.
Inspector Hussain can be contacted at Bridlington Police Station. His email address is: ahmed.hussain@humberside.pnn.police.uk >
Sergeant Whitehead can be contacted at Driffield Police Station. His email address is: christopher.whitehead@humberside.pnn.police.uk
Please read the article. Click the link "Inspector Hussain"
Inspector Hussain
Coronavirus (COVID)
what you need to know
Public Health Matters Blog
Urgent Treatment Centres
NOTICE: Due to Coronavirus East Riding of Yorkshire UTC opening times have changed temporarily If you have an urgent injury or illness that is not serious, life or limb threatening, then the nearest Urgent Treatment Centre to you can provide assessment, advice and/or treatment.
Urgent Treatment Centres
CORONAVIRUS INFORMATION POSTER
For any questions relating to the Coronavirus go to the Public Health England website which is being regularly updated
CORONAVIRUS INFORMATION POSTER
Humberside Police
IMPORTANT INFORMATION THAT YOU SHOULD KNOW
Please read the following attachment from Humberside Police which summarises some of the despicable scams that the world's low life is trying to use to inflict additional misery on the unwary
NPT Scam Advice Letter
Victim Support - Coronavirus: Scammers and Fraudsters
The unprecedented situation we've found ourselves in with the spread of coronavirus has seen amazing people, just like you, offering to support the most vulnerable people in your community. However, not everyone is like you. Sadly, we've already seen some people use this uncertain and really difficult time to exploit others. It's likely that we will continue to see this over the next few months. We've put some tips together to help keep you safe, and also to protect those you're helping.
Victim Support - Coronavirus: Scammers and Fraudsters
Victim Support - Coronavirus: Scammers and Fraudsters1
3 Steps to Safety
Creating a Safe Place to Live, Work, Shop, Learn, Play, Invest and Visit.
3 Steps to Safety
Scams advice during coronavirus outbreak
We are writing to you with regards to the coronavirus and how you can access support and safeguard yourself against scams. We hope that you are well. As a reminder, we would like to re-iterate the government and NHS guidelines about maintaining good hygiene; only go outside for food, health reasons or essential work, and stay two metres away from other people outside of your household. It is particularly important for people who are over 70 and/or have an underlying health condition. Please read the following articles.
COVID-19 Fraud and Scams
Coronavirus Scams Awareness Letter
Wash your hands of Coronavirus Scams
Coronavirus Social Media Pack
Age UK Hull and East Riding

EAST RIDING VOLUNTEER BEFRIENDERS NEEDED. Talk, laugh and make a difference in your community Our Volunteer Befrienders provide regular friendship visits or telephone calls with the aim of reducing the feelings of social isolation and loneliness
ER Befrienders Needed Poster
DRIFFIELD AND THE WOLDS FOOD BANK
If you think you need help or know someone who does, contact us and we'll try to help or signpost you. We are here for you.
There is a Kilham Food Bank donation point at All Saints' Church 24/7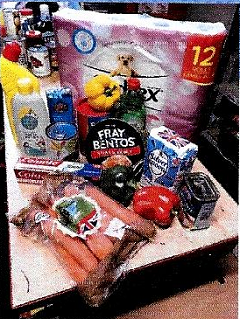 Food Bank
Food Bank1
Covid 19 Alert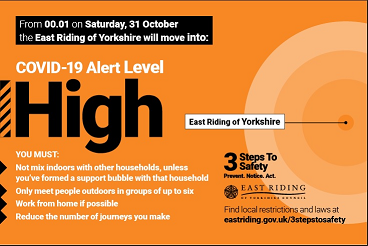 Local Alert Level 2 Announcement
Covid 19 Update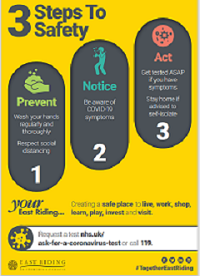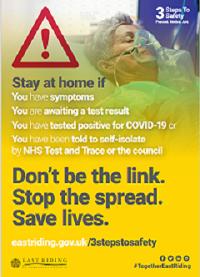 Town and Parish Councils Briefing
New National Restrictions
Recent News and Articles